Cloud Based

Fire Protection and Fire Safety Inspection Software

Fire Code Enforcement Officials from municipal government agencies love our cloud software and we're sure you will too!
Key Features
Geo3.0's Fire Safety software is loaded with useful features, each one with its own meaningful purpose. We listen to our users and integrate their feature requests on a regular basis. Geo3.0 is not only built by us, but also by our users.
Those Are Just A Few Main Features, There Are Many More
Cloud Based – Access From Any Device

Totally Customization For Your Needs
Custom Notices and Correspondence
We Import Your Existing Data

Reduce Paperwork and Waste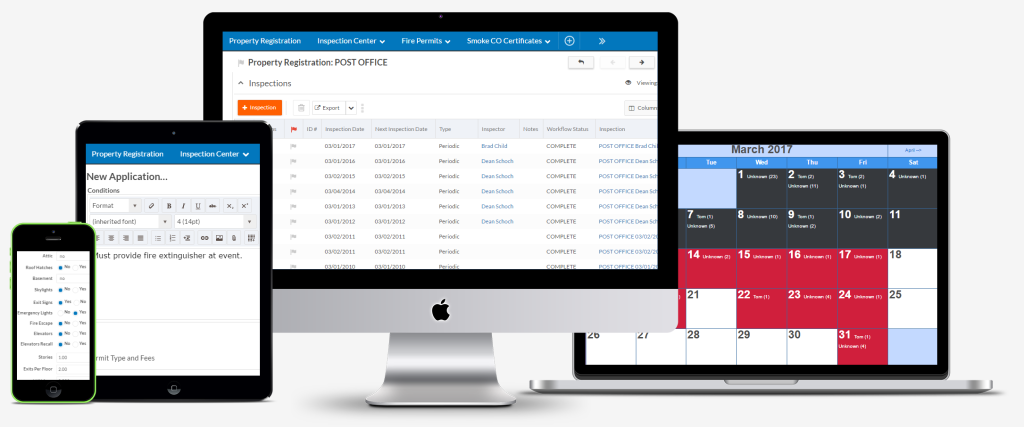 Fire Safety Software Overview
Geo3.0's Fire Safety software was developed for Fire Code Enforcement Officials to manage the registration and inspection process for residential and commercial properties. Officials can easily maintain and process information relating to Life Hazard and Non-Life Hazard Property Registrations as well as residential Smoke / Carbon Monoxide inspections. With Geo3.0's Fire Safety software, tracking and management of Notices of Violation, inspections, Fire Permits and Certificates of Inspection are streamlined. Renewals and invoicing for Property Registrations are easily automated.
Year our Fire Safety Application Launched
User Reviews: We Love our Users, And They Love Us.
We are fully dedicated to our user base. When you subscribe to Geo3.0's Fire Safety and Prevention application, there is no need to worry about customer support. With over 1,000 users and counting, you cannot go wrong with Geo3.0. Check out what some of our users are saying about us!
As this is a small Fire Bureau we were looking forward to less time posting information, being able to send correspondence to our customers by Email or regular mail and streamlining our processes. It's been approximately 5 years since we started using the Geo3.0 Fire Safety software and we've found that it has freed up time that was previously spent in the office.

We've been impressed with the customer service and ease in posting and tracking a question or request. Although with the quick responses to any question, tracking has not been necessary. The ease in moving through the program and the excellent technical service provided by Jungle Lasers made our transition to this new software program very smooth.
We've been using the Fire Department and Fire Safety Software since 2011 and have found that it meets all of our needs and more. A great feature is the programs easy accessibility on a mobile device that allows for entering inspections in the field. Geo3.0's Fire Software has proven itself and continues to change to meet our needs with simplicity.
Join The 1,000+ Satisfied Geo3.0 Users!